About VSA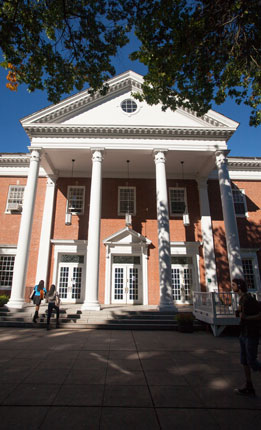 Academic Immersion
Thanks for a great summer!  2015 dates coming soon!
Vermont Summer Academy at Green Mountain College (GMC) is a co-ed academic program for rising eighth through 12th-grade students from around the globe. Located in Poultney, Vermont, GMC provides a wonderful backdrop to students looking for an amazing summer of transformative academic and personal growth. There is nothing like experiencing the academic environment at Green Mountain College. That is why Sierra magazine has ranked GMC a "coolest school" and GMC received a perfect "99" green rating in the 2014 edition of The Princeton Review's The Best 378 Colleges.
Our fun and rigorous academic summer program allows students to explore their academic interests. We introduce subjects that their schools may not offer, while encouraging them to experiment with classes to see if they would like to pursue one as a career.
We offer two, two-week long sessions. Our staff has broken the day into four class-periods. For three periods, students will study in their chosen major. For the fourth period, students will take classes in the elective of their choice.
VSA gives rising eighth – 12th-grade students the opportunity to immerse themselves in one course of study for a one-week period. Each curriculum is designed around student involvement. Faculty incorporate students' needs and interests into the lessons so that each class becomes a unique exploration. All courses are hands-on and project based. In all courses, students practice the critical skills of collaboration, critique, project planning and presentation.
Students have the opportunity to study one course in depth.  We call that their Major.  In addition to the studies associated with their major, students will also get to choose classes from our list of electives.  Our electives are designed to be short, fun introductions to interesting academic pursuits.
We have gone to great lengths to ensure each class is fun, rewarding, intensive and hands-on … in short, awesome.
Sustainability for Every Student:
Sustainability is woven through every course at GMC during the regular academic year AND during the Vermont Summer Academy. Our program curriculum features sustainability for all courses and sessions. Our program-wide sustainability seminar reinforces these two important concepts.
The VSA Community:
The community that the students and staff create is at the heart of the positive experience at VSA. Our skilled and enthusiastic staff is committed to teaching exciting and relevant courses, leading fantastic activities, and maximizing the unique experience of a residential youth program environment. In addition to being teachers and activity leaders, our staff members excel as role models and mentors.
The staff is typically comprised of our program director, academic director, residence life director, teachers, and resident advisors. The directors oversee all aspects of the program, making sure the students are engaged, growing academically and socially, staying safe and having fun. The staff lives in the residence halls with the students to ensure 24-hour availability and supervision.
We incorporate the college's energy, expertise and community into the summer programs while giving students an opportunity to live and study in a real college environment. Join us for the summer of a lifetime and a college experience you will never forget.
RETURNING PROGRAM DIRECTOR – Luke Krueger
Luke is happy to return to Vermont Summer Academy at Green Mountain College again this summer. Luke has served as a Summer Program Director for the last 8 years.  In addition, Luke served as the resident playwright at Northern Stage in White River Junction. While there he headed up Project Playwright, an in-school program in which he taught playwriting to 5th and 6th grade students, who eventually saw their work brought to life by professional actors and directors from New York City. Luke's love of education and building exciting summer programs has led him to serve as the director at sleep-away and day camps in New Jersey, Florida, New York City, and Virginia. Luke brings with him a wealth of educational experience as well. He has taught full-time at the college level for thirteen years at such schools as Arizona State University, Lake Forest College, Loyola University, and Northern Illinois University. The courses he has taught have included creative writing, literature, and theatre.
An accomplished playwright and author, Luke has had his plays performed across the country including New York and Chicago and is a member of the Dramatist Guild of America. In 2006 he served as the Emerging Writer in Residence at Penn State University. He is also the author of A Noble Function: How U-Haul Moved America. Currently, he is a visiting assistant professor of theatre at Northern Illinois University, where his most recent play, an adaptation of The Canterbury Tales was produced. Luke holds an MFA in playwriting from Arizona State University and a BA in English from Miami University (Ohio).
VSA Majors:
Please Sign Up For Our Mailing List!