ACADEMIC SUMMER CAMPS HIGH SCHOOL STUDENTS LOVE!
Lots of learning happens outside the classroom, which is just one reason why ours is the academic summer camp high school students love!  From our outdoor grass amphitheater, academic field trips,  walking to the river for the rope swing, camping out overnight, and day hikes, VSA students experience everything the world around GMC has to offer.  It is in this integrated academic experience, immersed in learning and focused on clear goals, that our students learn to excel.
Each student will attend our ELS, a new experience this summer that is fantastic!
This year, Vermont Summer Academy will play an active role in GMC's efforts to reach authentic sustainability and carbon-neutrality through the Environmental Leadership Summit. Taking place on the first Friday of each session, the Environmental Leadership Summit will allow VSA students to have hands-on experiences with the sustainability initiatives on campus and gain a better understanding for ways that we can meet the environmental challenges facing our planet. Throughout the day students will help to conserve native plants and animals along the Poultney River, complete an ecological design-build project, prepare a farm to table meal, and build leadership skills through a challenge course. Students will also have the option of participating in a hike and overnight excursion at GMC's Lewis Deane Nature Preserve.
9:00 – 9:30 AM Sustainability 2020 Panel Discussion
Join in a discussion of GMC's sustainability goals and the future of our planet with environmental scientists and activists from the college and community
9:30 – 10:00 AM  Students choose one of the following tours:
Sustainability and Renewable Energy:

Students take a tour of renewable energy initiatives, including the biomass plant, solar installation, energy monitoring dashboard, electric vehicle station, and waste diversion/composting program.

Cerridwen Farm and CSA:

Students will experience

the organic farm and meet the various livestock that call it home. They will learn about the food system innovations, including the edible garden, apiary, and solar-powered utility vehicle.
10:00 – 12:00 PM  First Session: Students chose one of the following
Ecological Design-Build Project at the

REED

Studio

Bio-Blitz of plant/animal species of the Poultney River Ecosystem

Challenge course and leadership skills with Green Mountain Adventure Programming

Farm to table meal preparation with the Summer Farm Intensive students
12:00 – 12:45 PM Lunch at the Cerridwen Farm House
All VSA students will enjoy a meal sourced from the college farm and edible garden.
1:30 – 3:30 PM Second Session: Students Choose one of the following
Wildcrafting and foraging, gather and learn about edible and medicinal plants/fungi
Bio-Blitz of plant/animal species of the Poultney River Ecosystem
Challenge course and leadership skills with Green Mountain Adventure Programming
Invasive species management with the GMC Natural Areas Crew
4:00 PM Students participate in a group reflection or join one of the optional activities
Optional: Hike and overnight at the Lewis Deane Nature Preserve

Optional: Participate in farm chores with the Cerridwen Farm Crew
Read all about it right here!
SEMINARS
Each session features two encouraged seminars.
College Admissions Seminar
The point of this seminar is to de-mystify, simplify and prepare the students at our academic summer program for high school students for the upcoming college admissions process. Students will meet with members of the GMC Admissions office. We will conduct mock interviews as well as work on specific college entrance essays. We will discuss extra-curricular work, Advance Placement courses and much more. Whether students choose to apply to GMC or to other schools, this seminar is designed to give students a leg up on navigating the process. Our academic summer program for high school students will create or clarify their own personalized college search plan portfolio focused on their "true identity". So whether a student is a rising senior (with a unique set of challenges and facing short deadlines) or a rising freshman (with more time to work on their application and extra curriculars), students will be energized and engaged in the application process.
Led by members of the GMC Admissions Office.
Sustainability Seminar
The concept of authentic sustainability is now woven into every course and major at Green Mountain College. The College is recognized as a leader in environmental and sustainable projects across a broad spectrum of initiatives on campus. GMC is the first college in the nation to achieve climate neutrality through campus-wide efficiency, adoption of clean energy, and purchase of local carbon offsets. Now, GMC has released a new eight-year master plan "Sustainability 2020" which embodies GMC's educational vision for the future while reflecting on the College's commitment to bend the curve of progress toward more adaptable and enduring models of social, ecological and economic practices. It commits the College to an ambitious milestone: meeting all of its energy needs with 100% renewable energy by the year 2020. Explore the College's long term plan here.
ACTIVITIES AND WEEKENDS
Days
During the day, we are immersed in your chosen field of study. But when class is over, there is no homework. We balance the challenging hands-on learning in class with time for relaxation and fun activities. To complete the VSA academic summer camps for high school students experience, activities are always safe and supervised and allow students from different program tracks to get to know each other outside of class. These team-building activities are designed to build community, strengthen friendships and foster personal growth.
During free time, students can jump into a game of soccer or frisbee on the quad; court games or working out; or relax with friends, read a book, or play games in the lounges.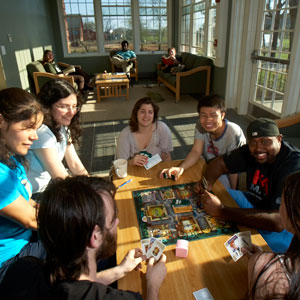 In the evenings, resident advisors (RAs) organize activities that allow all the students and staff to come together and have fun. These activities may include lawn games and spirit competitions and also special academic seminars and discussions.
Here is a sample of some of the activities and events enjoyed by our students last summer:
Night Hike
Our Environmental Studies instructor led all student volunteers (from any course) on a three-hour hike through GMC's Deane Nature preserve, which is located near campus. It was fun and informative!
Fire and Ice
Monday nights are "Fire and Ice" night. Students began the evening by making homemade ice cream. While the ice cream froze, we gathered around a fire pit, and had a large bonfire complete with s'mores! As the evening went along, students passed around guitars and sang songs.
Cerridwen Farm
Cerridwen Farm is the College's on-campus organic farm, managed by students. One week the farm hosted a dinner featuring dishes made from fresh products harvested on the farm. During our time there two calves were born. Our high school students in the Veterinary Science "Major" were able to witness the rapid response and care for the young calves and their mothers.
Poultney River
At the end of the day students and staff at our academic summer camps for high school students will go to the river, and make use of the rope swing and take a dip after a hot day. On a hot Vermont summer day…. nothing beats a rope swing over a clean, beautiful river!
Game Night
From board games to word workers, we have a lot of fun just playing games with and against each other. The residence hall has pool tables and Foosball tables to help round out the many options for the night. Operation? Apples to Apples? Game Olympics? Good times.
Evening activities included fun and informal games of volleyball, soccer, ultimate Frisbee, or dodge ball. One evening we stayed in Cree Hall to play Aliens and Raygun. Students also delighted in learning a new form of table tennis called "Poultney Ping Pong," where all surfaces (walls and ceilings) were in play.
Each Thursday was our talent show night where staff and students alike demonstrated their talents that ranged from singing and playing guitar to dancing, telling jokes and even demonstrating the talent of tying a shoe with one hand.
On each last Friday night at the end of each session, it was an affair to get gussied up for as we had our camp dance. "Mocktails" were served along with other snacks, and students danced the night away to their favorite requests. Or, if the group was feeling more laid back, we had a karaoke night, at which every staff member sang. Students quickly jumped in and started showing their talents as singers. Karaoke night took place at the Gorge (a cool on-campus performance space), which has stage lighting that made everyone feel like rock stars.
Each Sleepy Sunday students were treated to a game of Quidditch, a field sport adapted from the Harry Potter books. This club sport is the hottest new extra-curricular on college campuses. Green Mountain College has a nationally ranked club team, which has participated in the World Cup. Members of the college's team met us out on the athletic field to teach us the game. After a few drills, students spent the next few hours running around on broomsticks, dodging bludgers, and chasing the Golden Snitch.
Each session, there is a weekend where we need to take time to unwind after a hard week's work, and to prepare for the next week.  We call that Saturday "Super Saturday"  this year we will be offering a variety of options for our students that bring together the best of tourist-y destination trips, the Green Mountain College community and Vermont's natural wonders.  From shopping at the outlet and other major shopping destinations at Lake George, checking out the summer action at Killington Resort, exploring the Falls of Lana, and lots of other ideas as we approach the summer.