Writing Summer Camps at Vermont Summer Academy
Vermont Summer Academy (VSA) Writing Workshop, 2017
Class description by Professor Dr. Amy C. Murphy, Ph.D. , English and Lead teacher of the course:
Mudpies, Sandcastles, and Some Serious Carpentry
"You are lucky to be one of those people who wishes to build sandcastles with words."
–Anne Lamott, Bird by Bird: Some Instructions on Writing and Life
"The writer must have a good imagination to begin with, but the imagination has to be muscular, which means it must be exercised in a disciplined way, day in and day out, by writing, failing, succeeding, and revising."
–Stephen King, On Writing
In this two week experience, students in the VSA writing workshop will engage in a multidimensional process, designed to build strong creative habits that foster a passion for the written word and help them develop capacity and skill as writers.  The entire experience is grounded in the notion that writers grow through their tendency to daydream and be imaginative, as well as through practicing habits that will enable them to produce a solid piece of writing.
The methods of the workshop are rooted in creative habits of mind that have been variously defined by professionals in an array of disciplines from psychology, philosophy, and composition studies, to business and marketing.  These habits include: play, passion, curiosity, intuition, experimentation, engagement, openness, flexibility, mindfulness, empathy, responsibility, and resilience.  
In the workshop, I aim to hit on as many of these habits as possible through an array of activities.  Students will participate in exercises that are both individual and collaborative, in settings both outside and in.  They will develop their capacity as writers by engaging with the physical world around them, both in the natural environment and the created.  Field experiences and observational activities will help students stock the pond with images and ideas. The use of a journal for multiple activities on a daily basis will help students produce a mass of material that can be gleaned for formal assignments. In these formal assignments, students will have the opportunity to experiment with genre and form. In addition, students will read and discuss writers' work in various genres to gain inspiration and to expand their knowledge of literature. Students will collaborate in workshop, offering and receiving constructive feedback from their peers and instructor. These workshops in turn will enable students to produce honed, final drafts for their final portfolios and a public reading of their work to the larger VSA community.
My greatest hope for students once they leave the workshop is that they will have built confidence, skill, and knowledge, enabling them to continue their journey as writers, practicing their passion, and reaching the goals they have set for themselves.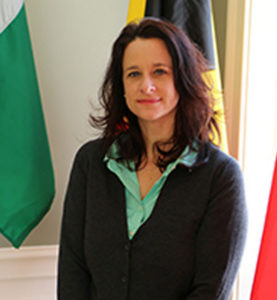 Professor Murphy
This course will be taught by Dr. Amy C. Murphy, member of the College faculty and a devoted teacher of young minds.  She is thrilled to teach these students this summer!
Her bio and info:
Associate Professor of English; Coordinator of First Year Seminars: Images of Nature and Culture and Voices of Community
Amy C. Murphy received her Ph.D. in English from the University of Arizona. Since receiving her doctorate, she has held appointments in various institutions at both the post secondary and secondary levels. She has been a professor at both urban and rural college campuses, and has taught literature and writing to a diverse student body, from Florida to Arizona, Oklahoma and Texas, and now in Vermont. While she has specialized in the teaching of British literature, she has also taught writing and composition for over 20 years and has an expertise and interest in helping students improve their writing skills. She enjoys serving students and building their confidence as writers and thinkers as they prepare themselves for their chosen career paths.
At Green Mountain College, she enjoys having the opportunity to teach in the ELA core and help students develop their writing skills. In addition, as the Writing Director for Images of Nature and Culture and Voices of Community, she feels fortunate to share her knowledge of the teaching of writing with both students and faculty. Finally, teaching British literature enables her to share her passion for the history and cultures connected to the English speaking world.
Education:
Ph.D., English, University of Arizona
M.A., English, University of Florida
B.A., English, University of Florida
Teaching Experience:
Associate Professor of English, Green Mountain College, Poultney, VT 2013 to the present
Adjunct Professor of English, Green Mountain College, Poultney, VT 2012 to 2013
Associate Professor of English: San Antonio College, San Antonio, TX 2005-2011
Chair and Instructor of English: Antonian College Preparatory School, San Antonio, TX 2003-2005
Assistant Professor of English: Texas A&M University—Kingsville, Kingsville, TX 2000-2003
Visiting Assistant Professor of English, Oklahoma State University, Stillwater, OK 1999-2000
DEGREE PROGRAMS OFFERED @ GMC: Communication Studies, English and English with Secondary Education Licensure, Writing including a Bachelor in Fine Arts along with Minors in Theatre Arts and Entrepreneurship